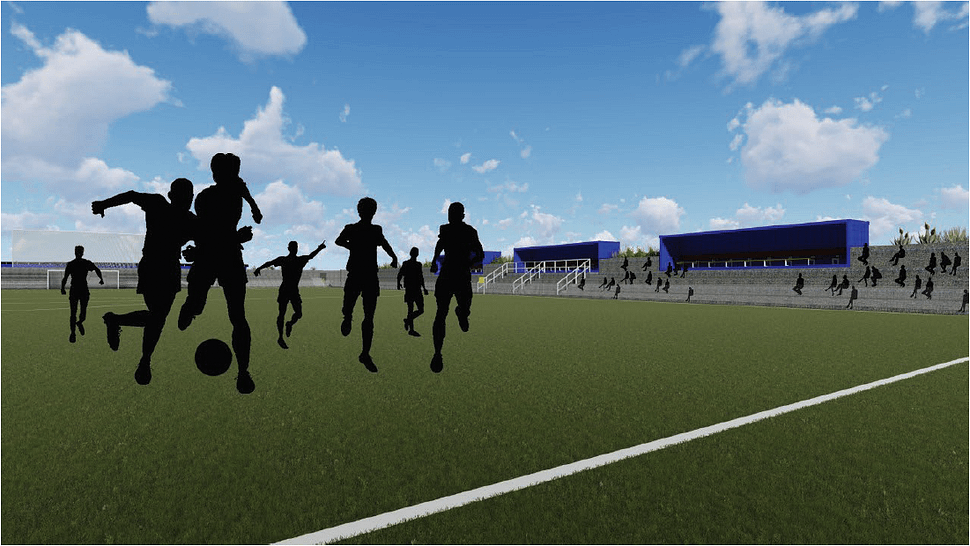 The new Stadium of Life facility will be a unique development, infusing sport, nature, art and social change. Pro bono support has already been pledged by architects for the design of the facility and by SIS Pitches for the supply and installation of the pitch.
The Stadium of Life, a 3,000 seat facility, based in Lesotho, South Africa, will include a range of facilities dedicated to enhancing the health, education and employment prospects of disadvantaged young people in Lesotho as well as integrating a number of unique environmental features.
At the site there will be:
A new 11-a-side artificial pitch providing a high-quality surface for women's & men's football teams, as well as 5000 vulnerable children each year.
Education and HIV testing facilities, enabling fans to access healthcare while attending matches
Integrated garden areas and more than 50 indigenous trees and shrubs planted in the surrounding grounds, promoting biodiversity and reducing carbon emissions.
Local art & culture opportunities through a number of exciting design features, giving voice to the local community and creating a unique infusion of sport, social impact, nature and culture
No.7 Restaurant and the Hokahanya Inn & Conference Centre – offering great services in a friendly environment with profits pumped back into Kick4Life's charitable work
Designed with the community in mind
A Participatory Design Workshop was held on Thursday 10th October 2019 at the Kick4Life Centre to create a wish list for the project. 27 participants, consisting of volunteers, players, staff members, and more, discussed ideas and ambitions for the new development. These were then passed to the partners working on the project, who have designed the new facility to make these initial ideas a reality.
On Thursday 20th February 2020, the Stadium of Life official launch took place at Google headquarters in London. The event featured speakers from across the globe ranging from the owners of the No.7 restaurant, architects from the In Loco Design and Build programme, video messages from the local community and more.
Juan Mata, Professional Footballer and Midfielder for Manchester United, showed his support for the project adding:
Kick4Life is a great organisation in the field of social enterprise, I'm proud to support the Stadium of Life project as it is an incredible idea – I encourage everyone to support them!

Juan Mata, Footballer
SIS Pitches are proud to support community projects, this one in particular stood out to us, Kick4Life are already doing such amazing work in Lesotho and hearing how this new pitch will contribute to so much social change is really rewarding for us and we are delighted to be involved with the project!

George Mullan, CEO, SIS Pitches
We are very grateful to SIS PItches for supporting this truly unique project. The Stadium of Life will be a hub of social change for decades to come and we look forward to making it a reality

Steve Fleming, Kick4Life Co-founder
Further information
If you would like to be a part of this incredible project by sponsoring, donating, fundraising or helping in any way please contact Kick4Life: 
https://www.kick4life.org/contact-us/
Enjoy This Post?
Sign up for regular updates direct to your inbox