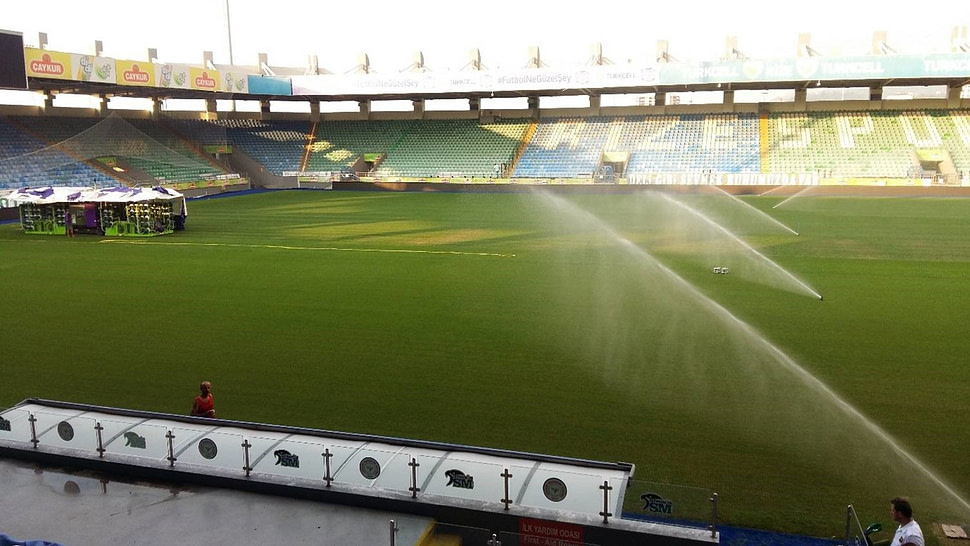 DIDI stadium is also located next to the Blacksea which brings rain and clouds to coastal cities, creating tough conditions for maintenance. Due to these reasons Caykur Rize Club decided to install SISGRASS Hybrid pitch technology in the stadium.
The project application started with stripping the old grass cover from 4 cm depth and placing new sand surface for seeding. The biggest challenge during installation SISGRASS was replacing the least possible amount of material and seed the pitch at end of June to make it ready for the first match on 20th August 2016. During installation the SIS team faced high temperatures and high air humidity above 80% on very young grass. Too much rain typically floods classic sub base construction and so to keep the SISGrass pitch in the best condition the edge of the pitch was rebuilt and the drainage surface which was layed was perfect.
Finally SIS Team and SISGRASS created the best conditions for the first game and for sustainable pitch use in the future! So, another happy customer!
Enjoy This Post?
Sign up for regular updates direct to your inbox