The new Baltic Arena, Kaliningrad, one of twelve stadiums to be used during the finals, is set to be the next high-profile stadium to have a SISGrass transformation.
SIS Pitches will design, construct and install a new SISGrass hybrid pitch in July, and will then provide full maintenance throughout the tournament.
 The confirmation of a fourth stadium arrives after already securing deals to provide a new natural pitch at the home of Spartak Moscow, as well as a new SISGrass hybrid pitch for the new Rostov Arena and the Luzhniki Stadium, the venue of the World Football Cup final.
SIS Pitches has also completed work at the Krasnodar Stadium over the last 12 months, which is on the reserve stadium list for the World Football Cup.
Ilyas Kobal, SIS Pitches Eastern Europe Managing Director, commented: "It is fantastic to be given the green light on another stadium for the World Football Cup.
"We are going to be heavily involved at the 2018 World Football Cup and this will be another contract that will involve design, construction, installation and maintenance of the pitch."
SISGrass is an advanced reinforced turf system featuring patented fibre injections, which offers increased pitch stability and delivers considerably more playing hours than natural grass surfaces.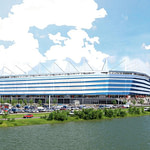 Enjoy This Post?
Sign up for regular updates direct to your inbox