This June, Georgia and Romania are set to welcome some of Europe's most exciting talents for the UEFA European Under-21 Championships. Georgia will deliver 12 venues for the tournament, with 11 (3 stadiums and 8 training pitches) being newly built or fully reconstructed. The £31 million infrastructure programme is financed from the state budget, which is an incredible investment for the next generation of Georgian footballers.
SIS Pitches was delighted to be contracted to complete work on 11 of the 12 pitches, which is one of the largest infrastructure preparation programmes in the last few decades in Georgia. The project is extremely diverse, with works completed in the capital, Tbilisi, as well as the two other biggest cities, Batumi and Kutaisi, along with some of the beautiful countryside locations.
SIS Pitches' one-stop shop solution showed excellence throughout, with the team taking control of all the scope of work and service. All of the pitches were stitched with SISGrass, providing the most elite-playing surfaces for the tournament participants. The pitches were taken to an even higher level with our in-house maintenance experts maintaining them before, during, and after the tournament.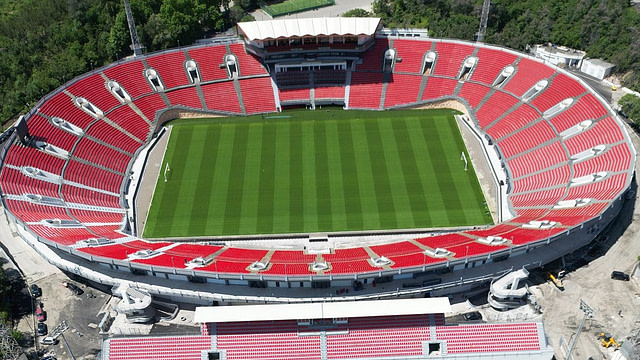 Batumi Stadium, the prestigious venue selected to host the final, holds a special significance for us at SIS Pitches. Not only did we have the privilege of constructing the stadium initially, but we are also honoured to continue our contract in maintaining the surface to the highest standards. Our dedicated maintenance team employs a meticulous approach, implementing cutting-edge techniques and utilizing advanced technologies to ensure that the pitch remains in impeccable condition.
Despite facing inevitable challenges that come with projects of this scale, the team not only delivered exceptional pitches but also triumphed over the initial tight schedule, showcasing their unwavering commitment to quality and timely completion.
"Seeing our pitches ready for the tournament fills us with immense pride and satisfaction, knowing that our hard work will contribute to creating unforgettable moments for the young talents of European football. This project has been a testament to our team's dedication, professionalism, and commitment to delivering exceptional results.

We are honoured to have been a part of this historic event, winning this work has not only been a moment of pride but also a reaffirmation of our capabilities as a leading force in the sports surface industry. We look forward to future opportunities where we can continue to showcase our expertise and make a lasting impact in the world of sports."

Berkay Sezen, Director of Constructions, SIS Pitches
"We have been working in Eastern Europe since 2008 in many countries from Balkans to Uzbekistan with a strategic growth plan.

Our projects include the World Cup, European Championships, Olympic Games and many other high profile championships.

Delivering the projects on time and budget with the SIS quality as always led us to develop our reputation in this huge territory. We were in Georgia in 2020 with a last minute call from Batumi Stadium where we had to rebuild the pitch during the tough Covid times in winter for the first game in May.

After our previous work, we have also been awarded the maintenance contract going forward. In preparation for the upcoming European Championship this summer, we have recently finished 11 pitches using our innovative SISGrass Hybrid technology. I am thrilled to witness how this project is undoubtedly elevating the standards in Georgia and establishing new benchmarks for sports surfaces nationwide."

Ilyas Kobal, Managing Director, SIS Pitches