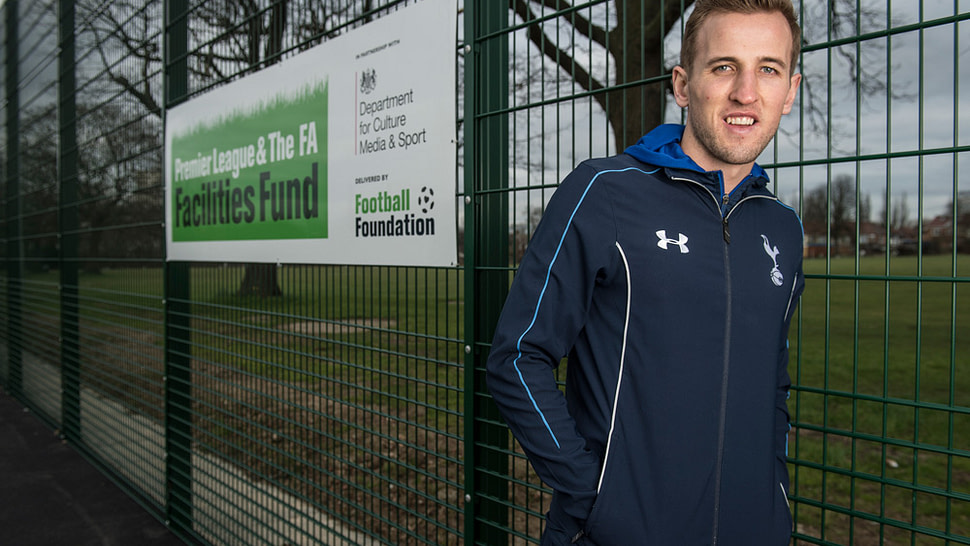 Spurs hotshot Harry Kane strolled out to admire the gleaming new SIS Pitches artificial grass surface at his boyhood sports club and simply couldn't resist getting involved in an impromptu keepy-up session with thrilled local boys.
The stunning £578,000 3G pitch installed at the Peter May Sports Centre in Walthamstow, North London, is the club's second from SIS pitches and Harry was suitably impressed as he toured the grounds where he started his career with local side Ridgeway Rovers.
"Looks fantastic. I wish we'd had this when I was playing down here," smiled the modest young superstar as he bounced on his toes on the immaculate British-made grass carpet crafted at SIS Pitches' Maryport manufacturing base in Cumbria.
The project was made possible thanks to a £368,696 grant from the Premier League & The FA Facilities Fund, which is delivered by the Football Foundation and provides grants towards developing new or refurbished grassroots football facilities.
The facility, which also received grants from the London Playing Fields Foundation (£135,000) and the London Marathon Charitable Trust (£75,000), now boasts a floodlit, full-size pitch complete with spectator viewing area. It replaces the old sand-filled pitch which could no longer cope with the high demand from local grassroots football clubs lacking a quality venue for training and matches.
Watched by his proud parents and brother, 22 year old England superstar Harry was an impressive figure as he spent more than two hours of his post-training time chatting with excited 16-18 year olds, who hung on his every word.
When a ball was produced, the Spurs vice-captain could not resist making waiting Times chief football writer Henry Winter spend a little longer on the touchlines, as he thrilled the kids by agreeing to an impromptu keepy-up session.
Afterwards, Harry declared; "This facility is amazing and it was a real pleasure to open it alongside Virginia May. The Peter May Sports Centre is a great example of the Football Foundation's commitment to improving grassroots football across the country, using money from the Premier League, The FA and the Government through Sport England.
"It is so important that there are partnerships like that in football because it means that the grassroots game can prosper. Not so long ago, I was just like the kids who are using the facility now, training hard and enjoying my football – we all start out in the grassroots game after all.
"I grew up learning my football trade in this part of the world, so I know how much this new pitch will mean to the local community. This facility will inspire more people to get involved in sport and in doing so will create quality, home-grown talent and increase participation levels in football.
"Again, the Football Foundation, Premier League and FA Facilities Fund, London Playing Fields Foundation and London Marathon Charitable Trust all deserve huge praise for making this pitch a reality."
Peter May grounds staff confirm that hitting the big time has not dented the top goal poacher's down-to-earth style, as he makes regular visits back to his schoolboy playing fields to visit old coaches and encourage young players.
The Peter May Centre is where Harry's former teammate Andros Townsend also started his youth career, as well as former alumni David Beckham and cricketer Ravi Bhopara. The opening ceremony was also attended by Virginia May, widow of cricket legend Peter May, who said; "The new pitch is absolutely wonderful and I was thrilled to officially open it with Harry.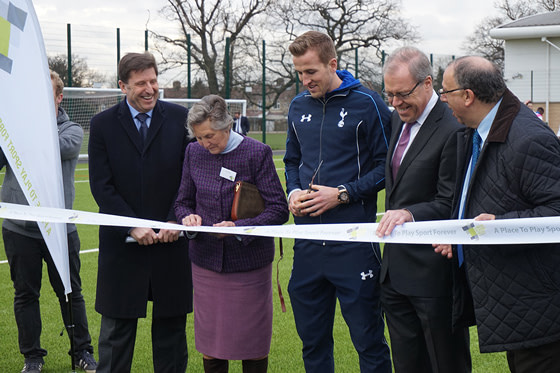 "The whole facility, including the sports hall that was originally made possible by the Peter May Memorial Appeal and the Sports Lottery, is a fitting legacy to Peter who would have been thrilled to see so many people playing the sport they love."
The Football Foundation has worked alongside the London FA and London Playing Fields Foundation to put together a five-year local Football Development Plan, emphasising increases in participation levels.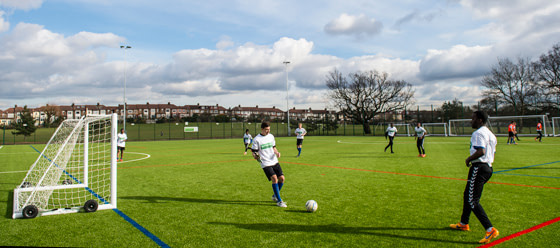 Harry's old team Ridgeway Rovers FC still play at Peter May along with 45 other amateur teams of all ages, including Ryan FC and Egbertians FC. Forecasts predict that over the next five years, the number of teams at each of those clubs will increase by 40% and SIS Pitches play a vital role in providing round the clock, virtually weather-immune, quality artificial turf surfaces. By contrast natural grass is usable only 3-5 hours a week at best.
Colchester United FC are already using the pitch to run their Elite Player Performance Centre for players aged 12-16. The Leyton Orient Advanced Soccer School's 25 teams will also use the pitch regularly with a view to increasing their provision for disability football. Their girls' Under-15 side will play at the site too, which would support progression to Under-21 and senior football.
Lord Cadogan, Chairman of London Playing Fields Foundation; Nick Bitel, Chair of Sport England/CEO of London Marathon Events Limited and Joe Thompson, Senior Grants Officer for The London Marathon Charitable Trust were also present at the opening.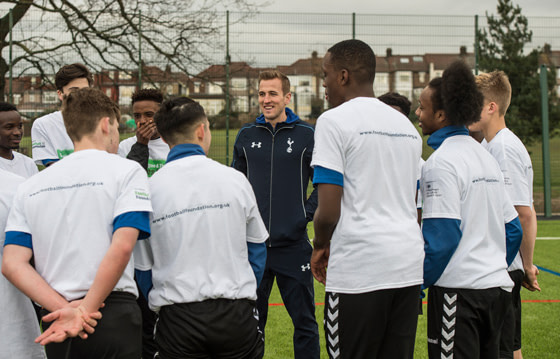 Alex Welsh, London Playing Fields Foundation Chief Executive, said:"Playing fields are where sport starts and for the gifted few they are where careers start, so it was great to see Harry come home to where it all began. I'm sure that this new pitch will dramatically improve the playing and training experience for a whole generation of young footballers and be a model for other facilities across the country."
Paul Thorogood, Chief Executive of the Football Foundation, said: "Since 2000 the Football Foundation Funding Partners' investment has provided 282 grants worth £27.8m towards grassroots sports projects worth over £67.3m across the whole of London.
"With this funding, provided by the Premier League, The FA and the Government, through Sport England, we are helping to improve community sports facilities across the country and thereby the playing experience of those who take part."
Enjoy This Post?
Sign up for regular updates direct to your inbox