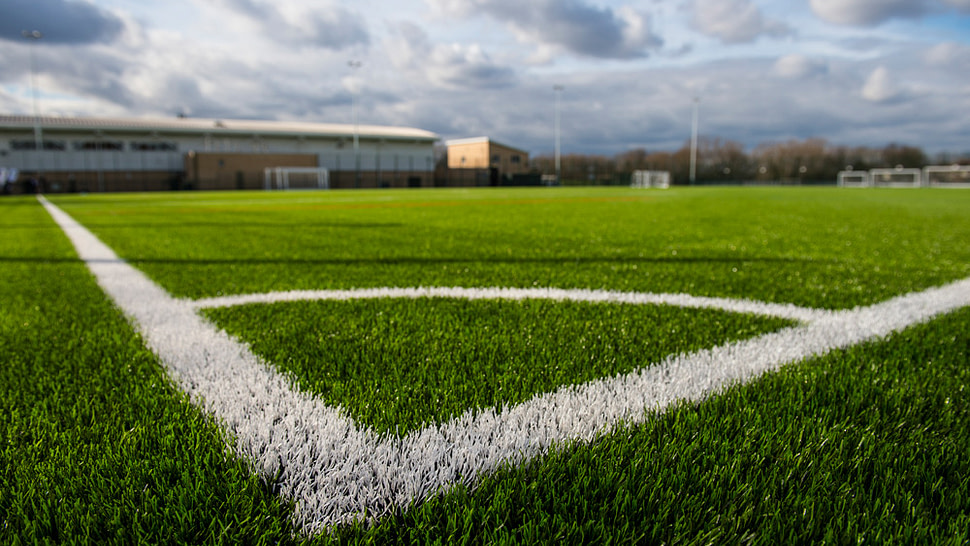 The answer I give is not precise, as each pitch is unique; it has different levels of usage, maintenance varies and local conditions often play a part. Generally, good quality synthetic turf should last for 8 years. Assuming around 40 hours of play a week, with correct usage and maintenance, an artificial pitch should continue to meet the appropriate standards for the 8 years. After this, the pitch may still continue to perform for some years but you should expect a drop off in its quality. Some surfaces have lasted over 15 years, but by that stage there are plenty of tell tale signs that the pitch has passed its shelf life.
Warning signs that it's time for artificial pitch resurfacing include seams opening up, drainage not working and fibre coming out. In some cases, the fibre can be worn away completely, especially in heavily used areas. But why wait until your pitch has reached this stage of distress?
If a pitch is regularly maintained, and is inspected or tested annually, it should be possible to predict when a field's performance starts to dip. At this stage, plans should be put into place to replace the surface. And if the pitch was installed over a good shockpad and base, the replacement cost is restricted to just the surface itself.
The process of artificial pitch resurfacing
The existing artificial pitch surface can be removed in different ways. The first question should be, "Can any part of the current pitch be reused?"
Pitch infill extraction and reuse
If the answer is yes, then the infill material would be extracted out. For old hockey fields, it is unlikely the sand can be reused in another synthetic turf pitch, but it can be used on natural grass fields. If the school's groundsman doesn't want the sand, then a local golf club will most likely take it. If it is an old 3G pitch being resurfaced, then the rubber infill has value and can be taken out, cleansed and reused. Again, the sand from an old 3G pitch is harder to reuse in a new surface.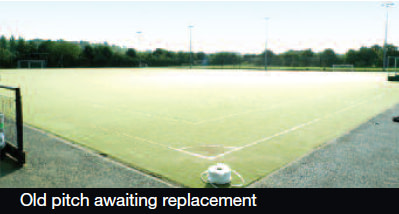 Old synthetic pitch removal
The carpet is now much lighter and can be cut into strips ready for reuse or disposal. The strips are rolled up and stacked ready for disposal. Often old synthetic turf is used for walkways, and occasionally re-laid in smaller sports areas. It can be recycled but currently the transport costs make this an expensive exercise. Synthetic turf can be converted back into a low grade plastic, converted into energy through burning in kilns or can be disposed of in landfill.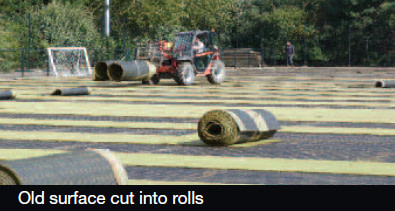 Old synthetic pitch disposal
If there is no value in the synthetic turf, and extraction is not a viable consideration the turf will be lifted, complete with infill and disposed of. There are companies who will take the turf in this way and find alternative uses for it, such as in equestrian areas. Often very old turf will be taken to landfill.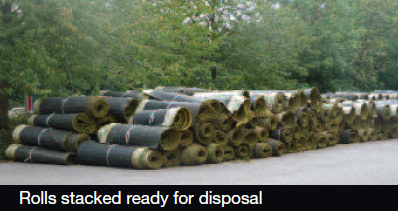 The synthetic turf industry has working groups monitoring recycling and disposal options, whilst specialist companies are currently looking for commercial solutions to re-use turf. With tighter environmental regulations coming in there now has to be a record of where and how waste is disposed, ensuring companies are compliant with regulations and pitch owners can ensure their pitch is disposed of correctly.
New synthetic grass installed
Once the pitch base is prepared, the new synthetic grass can be installed, completing the artificial pitch resurfacing project!
If you are looking to resurface an old 3G synthetic pitch, SIS Pitches can manage the whole process for you. Our sports pitch resurfacing will transform your old pitch, ready for safe, high quality play again. Just get in touch to find out more.
Enjoy This Post?
Sign up for regular updates direct to your inbox