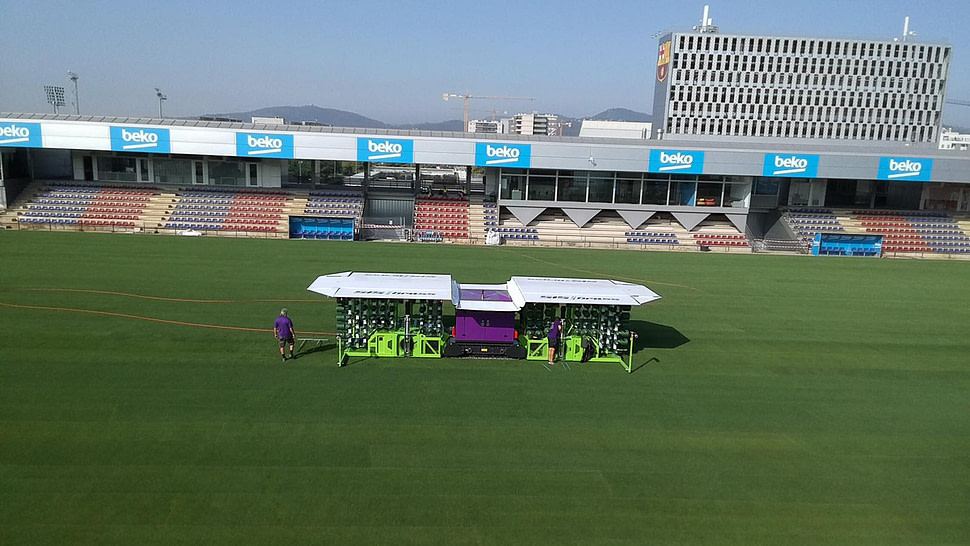 Two years after revolutionising the hybrid grass market with the fully electric SISGrass Universal machine, SIS Pitches and SISGrass are proud to announce the launch of their second generation SISGrass machine, which is also 100% electric. The machine can stitch a full-size football pitch in just 7 days using electricity, a huge step forward in reducing the company's environmental footprint.
SIS Pitches are the first to use this type of technology in their large machines, and are seeing huge benefits already, with installations completed at FC Barcelona's training ground, followed by Camp Nou.
With over 18 years' experience working with the biggest names in sport, SISGrass has been used at every major tournament in the last few years including the Europa League finals, UEFA Champions League, 2018 World Cup and the upcoming 2019 Rugby World Cup.
SISGrass is a 95% natural grass pitch that has the characteristics of a natural pitch, with synthetic fibres inserted into the surface, offering more playing hours and faster pitch recovery than 100% natural surfaces. SISGrass uses cutting edge laser systems to guarantee 100% accuracy when injecting fibres uniformly over the entire pitch.
Our new machines are using electricity to install our SISGrass product, which makes it more efficient, quicker and quieter.

SISGrass hybrid pitches are installed with the best quality materials and accuracy available on the market, as well as being able to stitch much faster than other machines. This 100% electric machine is the next step for us and we're really pleased to be one of the first in the industry to offer this technology in our larger machines.

Ivo Lamot, Managing Director, SISGrass
This is another step in our drive to innovate and deliver technology that significantly reduces our carbon footprint.

George Mullan, CEO, SIS Pitches
Enjoy This Post?
Sign up for regular updates direct to your inbox