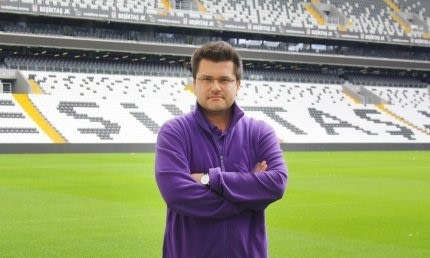 What is grounds week?
SIS Pitches are proud to sponsor #GroundsWeek, managed by the Grounds Management Association (GMA), the leading not-for-profit membership body for grounds professionals and volunteers. The turf care campaign will take place 1-7 March 2021 and will celebrate and highlight the vital role that professional grounds staff, volunteers, and the turf sector play in making sport possible. 
Following a difficult year for the sector due to the impact of Covid-19, #GroundsWeek aims to showcase grounds staff and the amazing work that they do – and have continued to do – despite sport coming to a grinding halt.
To celebrate, we have picked 3 of our professional grounds team that work across the SIS Group, to showcase.
Onur  Özata, Contracts Manager, SIS Pitches Eastern Europe
As part of our Eastern Europe team, Onur has worked on a number of high-profile projects, from construction to maintenance.
What do you enjoy most about your job?
Growing grass is a huge challenge and I enjoy that a lot!
Can you name drop a few projects you've worked on that you really enjoyed?
I have worked on: Galatasaray Turk Telecom Arena Stadium, Besiktas Vodafone Park Stadium, Fenerbahce Ulker Stadium, Trabzonspor Stadium, Goztepespor Stadıum, Baku Olympic Stadium and Spartak Moscow Otkrytie Arena Stadium.
These projects are highly challenging and high profile for SIS Pitches in our region in Eastern Europe.
What is your favourite part of your job?
The constant challenge that we face everyday to provide the best possible playing surfaces to the customers from construction to daily maintenance, from renovations to match preparations, has always excited me and I feel dedicated to this passion.
Do you travel for your job?
Yes, I travel to countries across Eastern Europe like Russia, Azerbaijan, Georgia, Uzbekistan. I also travel to Europe and State countries to participate on seminars, education etc.
How has your job changed because of COVID? How have the measures affected you?
COVID affected our job quite directly actually. Due to the altered match calendars by COVID, we have had to postpone all yearly pitch renovations which is crucial to provide good surfaces for year round. We have also had a few COVID cases in our team which was also challenging.
What are the challenges of your job?
Our job is to grow healthy grass, a living organism, in all climatic and environmental conditions. We always have to find the ways and solutions to cope with these compelling conditions, as we work with nature which can be unpredictable! From people to equipment, from auxiliary instruments to materials, we have to manage all these components like a composer to get good results.
Do you play any sports or hobbies?
I play golf as a handicap player. I like playing and listening music, reading, cycling and motorbikes.
Simon Adams, Maintenance Manager, SIS Pitches UK
Simon is a vital part of maintaining our synthetic surfaces across the UK, including regular scheduled maintenance, to specialised treatments such as SISProClean and SISCleanse.
Ton roosendaal, Country manager, SIS Pitches international
Ton has worked in the industry for over 20 years, across natural turf surfaces, as well as SISGrass hybrid technology.
How long have you been a part of the industry? 
I have worked in the natural turf industry since 2001. I started doing returfs and maintenance at the Amsterdam arena and developed from there. I'm currently based in Holland but I travel far and wide with my job for SIS Pitches, it's one of the things I love about being in this industry.
What is your favourite part of your job?
I enjoy working with natural products, whether that's seeding, returfing or overseeing SISGrass installations. We have a wide variety of clients all over the world, and I enjoy working with them to create a bespoke pitch.
Sometimes construction work, planning and transport can be a challenge, but I find it interesting finding the solutions.
How has your job changed because of COVID? How have the measures affected you?
Generally, we saw a period where there were slightly less returfs and new projects, but I have been lucky to work throughout.
Do you play any sports or hobbies?
I enjoy Tennis and Golf!
Thank you to all our hard-working teams across the globe!
At SIS Pitches we're incredibly lucky, to have an endless list of in-house experts, from the site teams to the office staff!
If you would like to consider a career in the grounds industry – why not take a look at our vacancies page or send us your CV?

Enjoy This Post?
Sign up for regular updates direct to your inbox