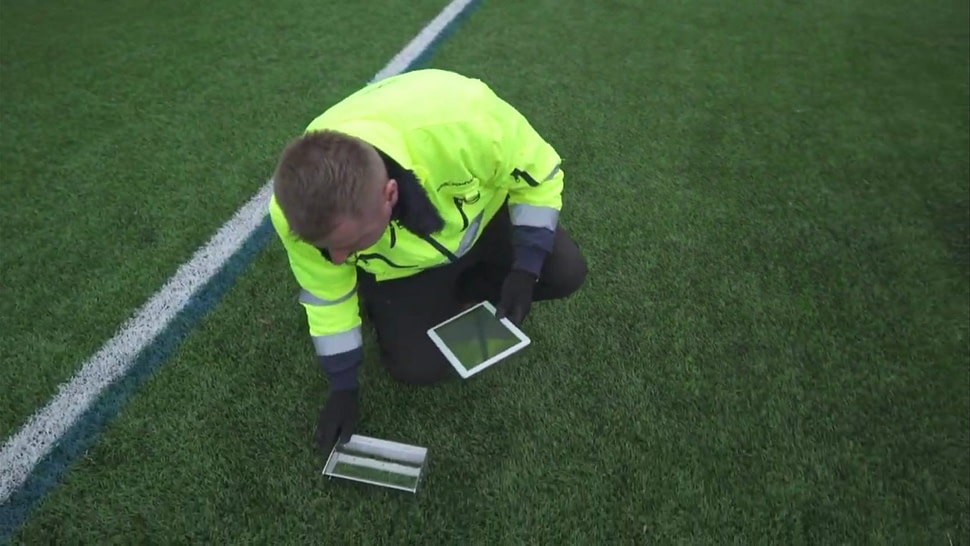 We partnered with the GMA (Grounds Management Association) to collaborate on some essential tips for staying on top of your pitch maintenance, and the importance of doing so. If you want to watch our webinar on this featuring Dr Kathryn Severn from the Football Foundation and Richard Gregg from Saracens, you can do so at the bottom of this blog or on our YouTube channel, but we've also summed it up in a handy guide below.
How to maintain sports surfaces
It's important to cater your maintenance schedule to the type of pitch you have and the usage it gets per week, so that you can ensure proper care. If you're ever unsure, talk to your pitch supplier or maintenance contractor to ensure you are fulfilling the needs of your surface.
Types of maintenance
There are 3 types of pitch maintenance –
Regular maintenance typically carried out in-house,
Specialist maintenance often carried our regularly by a specialist contractor and
Major maintenance work which is occasional repairs and upgrades, again conducted by a specialist company.

Many sports clubs and facilities undertake a mixed approach when it comes to maintenance – read a bit more about it below:
Regular and routine activities
This includes weekly general housekeeping such as litter picking, removing debris, checking condition of equipment, and brushing the surfaces. These are the things that can be done in-house with your grounds specialist to keep your artificial grass performing at its best. As a guide, 40 hours of pitch use would warrant a weekly check, so you can adjust this to your own facility.
S

pecialist maintenance
This is more periodic such as specialised treatments, decompacting the infill and topping up across the pitch. It will also include a deep clean to remove debris and extra dirt that might have accumulated. This could be done in-house if you have a specialist team however many clubs choose to outsource this to contractors that can provide the correct equipment and knowledge.
Major maintenance work and resurfacing
This will be required if regular maintenance hasn't been done, hasn't been delivered effectively or if your surface is near the end of its life.
This might mean general repairs, seam and joint repairs, full removal and replacement/cleaning of infill material, cleaning of heavily contaminated areas and if you have courts they might need recoating.
In general, the more your surface is used, the more likely major issues may arise if regular maintenance isn't followed.
Internal grounds management vs specialist pitch maintenance services
Your routine maintenance can be done by your internal grounds management team, provided they've been trained to understand the needs of the pitch.
Your specialist maintenance will then most likely need an external expert to attend the site. Not only for their knowledge but their equipment too. The specialist will be able to identify and fix any issues as well as warning about potential future hazards. They will do a full surface assessment on each visit to make sure your pitch is in the best possible condition.
Mixed maintenance approach at Saracens
"We chose to install an artificial pitch to satisfy the usage requirements of our key stakeholders. We have Saracens Rugby club who play in the championship and as part of the premiership, so we have that side of things to look after from an elite level, but we also have an obligation to our community who also use the pitch. Our priority is to make sure the pitch and running track are useable and maintained to the highest standard.

We decided in 2016 when we got the new pitch from SIS Pitches, we needed the best surface to play on, but also we needed to invest in our maintenance approach.

We now use a mixed approach to maintenance, we have an in-house team that looks after our grounds, and then when we have an elite game, typically bi-weekly, we will work with SISPlus. They will come in the day before the game, do a full pitch inspection, address any areas that need maintenance and do everything for us – SISPlus do that better than anybody.

We're now five seasons in and we're really happy with the performance of our pitch, at an elite and community level."

Richard Gregg, Operations Director, Saracens
Why is pitch maintenance important

?
In order to comply with your pitch warranty, it's vital that you maintain it correctly. Not only does it keep your warranty intact but it means you can add on years to your investment, ensuring a longer pitch lifespan. There seems to be a misconception that once artificial grass is down, the hard work is done, however ongoing maintenance is essential for top performance and prolonging the life of your pitch.
How to improve pitch lifespan
Regular maintenance will help to improve your pitch lifespan.
Think of your grass fibres as a piece of paper that's been bent it in half. Although you can straighten it back up again, it's much harder the longer you leave it and the more bent it is. Weekly pitch brushing will help your grass to stand up straight again and keep the fibres intact. 
Every surface will degrade with age and use, and the majority of them are exposed to the elements so they should all have a service schedule in line with needs and program of use. 
How to improve sports pitch safety with maintenance
Maintenance not only improves your lifespan; it is also preventative in serious injuries to any players.
The harder and less pliable the ground is, the more likely an injury could occur from a fall or tackle. Ensuring you look after the pitch means you're also looking after your players.
By checking the ground for holes or carpet lifting, checking the bounce and meeting your sports standards of safety, you can feel secure in the pitch. It's also worth going outside of the grass to look for any trip hazards from around the edge as well as checking seating arrangements to make sure that games and training can be enjoyed safely.
Sports pitch testing & performance
Testing ensures that your pitches are the right quality, installed correctly and providing a safe and satisfactory playing environment, whatever level you play at.
Most sports have required testing standards set by governing bodies, but this varies from sport to sport alongside the British European standards.
If your pitch is used for multiple sports, you must meet the testing criteria for each sport the pitch is used for.
Testing keeps your players safe, so they will test a multiple of factors relating to the pitch such as:
Player surface interactions
Ball roll
Skin/surface friction
Free pile height
Presence of maintenance

So now you know about the importance of maintenance, perhaps it's time to do an evaluation on your current schedule and make sure it is up to standard. If you want some help, why not contact SISPlus today for a free site visit.
Maintenance Essentials webinar with the GMA
Learn more from the experts in our new webinar! We'll cover:
Why maintenance is so important
How maintenance contributes to the longevity of your pitches and surfaces
How maintenance increases safety for pitch users
Maintaining your warranties and performance standards including FIFA, FIH, World Rugby
Independent testing
Internal vs Specialised services
Maintaining different surfaces – artificial grass, running tracks, courts and more
Arrange a free consultation today
Enjoy This Post?
Sign up for regular updates direct to your inbox