take a quick tour
Hockey WATER-BASED pitch
Installed in summer 2019, the elite level water-based hockey surface is the first of its kind in the UK and has been designed specifically by SIS Pitches to encourage speed of play. The full-size pitch harnesses the latest innovations and was manufactured at our state-of-the-art £1.8m headquarters in Cumbria.
The SISTurf Xcel Ultra surface is the product of our continuous pursuit of high-quality and innovative surfaces. The combination of a high-grade, polyethylene polymer, 10-ended texturised yarn and optimised turf construction provides a truly elite-level system, with exceptional ball speed and uniformity, as well as outstanding durability.
In a recent student survey, 75% of players said the water-based pitch exceeded the standards of all other pitches they had played on.
"The pitch is very quick, with a good amount of bounce"

Lucy, Loughborough Hockey
"One of the quickest pitches I have played on!"

Iona, Loughborough Hockey
"I am really impressed with the pitch, especially how quickly it was installed, whilst also keeping good quality!"

Amber, Loughborough Hockey
Football 3G pitch
This 3G pitch adds to the extensive football facilities on-site at Loughborough. The high-quality, UK manufactured pitch was designed, constructed and installed by SIS Pitches, the UK's largest one-stop shop for sports pitches.
The SISTurf Xtreme Ultra surface is tested to FIFA Quality standards. Manufactured in our UK facility in Cumbria, we have used the latest technologies including our innovative PU backing, SISBond.
"SIS Pitches have provided us with world-leading surfaces. They are an incredible values based high quality company. We are very proud at Loughborough to be a SIS Pitches site"

Jo Simpson, Commercial and Sports Facilities Director, Loughborough University
Football SISGRASS Hybrid pitch
As well as the 3G training facility, SIS Pitches has also installed SISGrass hybrid technology into the newly built pitch at the Loughborough University Stadium. The pitch consists of 95 per cent natural grass supported with 5 per cent synthetic fibres and is the same style of pitch as used at the 2018 World Cup.
"It's great that we are able to have this quality of pitch at Loughborough, recruitment has gone through the roof because people want to come here and want to play on the pitch"

Richard Allen, Director of Football, Loughborough University
"Celtic FC were here a couple of weeks ago, they had 2 training sessions per day for 7 days, we wouldn't have been able to do that on any other sort of pitch"

Paul Turnbull, Assistant Sportsground Manager, Loughborough University
"For me this is the best pitch I've played on. The consistency throughout the season from pre-season fixtures in July to the end of the season in May, it is immaculate throughout"

George Wilson, Student, Loughborough University
Rugby pitch
Converted from natural grass in 2015 the Rugby pitch is home to Loughborough's extensive Rugby programme.
The pitch is our UK made SISTurf Rugger product, on an insitu shockpad and engineered base. The yarn used in this pitch offers optimum pile recovery and resilience, with fibre reinforcement for durability, which increases playing time on the pitch, perfect for this busy university facility.
Tested to World Rugby Regulation 22, the pitch is fully floodlit with perimeter spectator fencing. The Rugby pitch hosts matches including National League 1, Tyrrells Premier League and BUCS Super Rugby.
"The artificial surface suits our style of rugby as the pitch is fast and very consistent in terms of foot placement and the way the ball reacts, regardless of the weather. In a wider context across campus, the pitch can be used extensively, much to the benefit of players across the whole spectrum of rugby."

Rhys Edwards, Director of Rugby, Loughborough University
MUGA pitch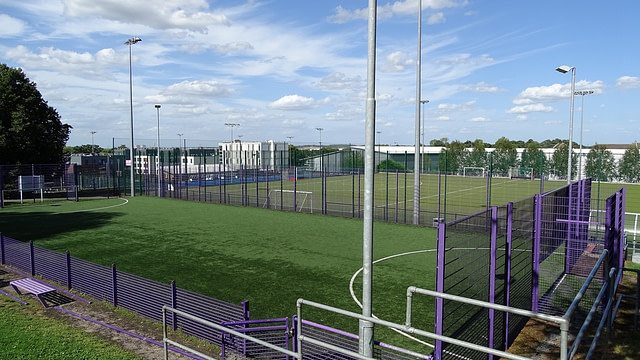 Known on campus as 'the games park' this multi-use games area (MUGA) is open to all students at the university, for recreational sports such as football, hockey and volleyball. Whether its a kick-around after a lecture or a quick warm up before a game, this pitch is versatile and durable.
The UK's largest one stop shop for university sports pitches
We are proud to be the UK's largest one-stop shop for all types of sports pitches. The whole process is managed in-house from start to finish, which gives our clients confidence and peace of mind.
Whether you are a university, independent school or college, you can trust that we have the expertise and knowledge in-house to complete your project.
We want to make the process as easy as possible, which is why we have a dedicated team working on each project, guiding our clients through each stage, we are here to answer your questions and support you whenever you need it.
Arrange a free consultation today