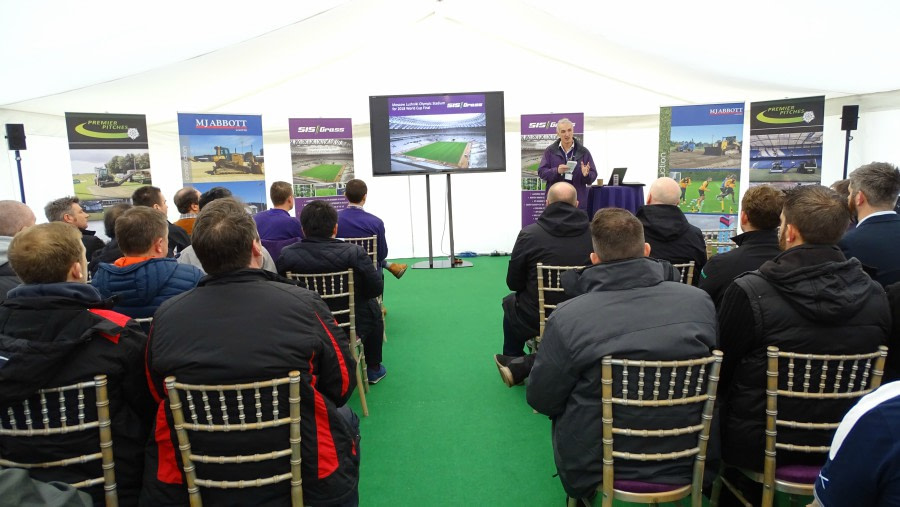 Cobham provided the perfect backdrop to showcase SISGrass with over 50,000 square meters of Chelsea's training ground utilising the world's leading hybrid surface.
Groundsmen and women from across the world, including, the US, Japan and Europe enjoyed a day of SISGrass immersion with presentations, demonstrations and the unveiling of SISGrass Universal – SIS Pitches' latest innovation in hybrid technology.
George Mullan, CEO of SIS Group, commented; "The attendance at our Open Day was truly unbelievable and just shows the interest and passion for SISGrass.
"We are very grateful to Jason Griffin for the hospitality at a World Class venue and also to our partners Premier Pitches and MJ Abbott for their continued support."
Carl Pass, who presented a Premier Pitches case study on the renovation of the SISGrass pitch at St George's Park, added; "It was a fantastic day and a great opportunity to show off the facilities and product developments to such knowledgeable industry professionals from across the globe.
Nathan George, from pitch construction company MJ Abbott, said; "We have been working closely with SIS Pitches on their SISGrass product for a number of years and there is nothing that comes close to it.
"With innovation at the forefront of the technology they have been a pleasure to work with and know the game inside and out."
Enjoy This Post?
Sign up for regular updates direct to your inbox