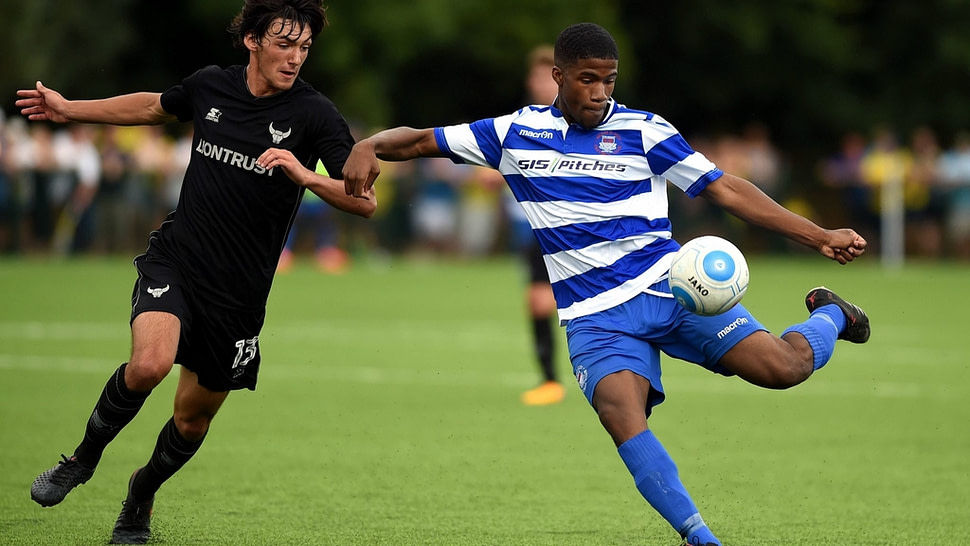 The City announced the partnership at the launch of their brand new SISTurf 3G pitch at Marsh Lane ahead of the pre season friendly with local rivals Oxford United.
The sponsorship deal will see SIS Pitches feature on the front of the new Oxford City Home and Away shirts and includes an ongoing maintenance package for the state of the art facility at Marsh Lane.
A record crowd of 2276 fans came to watch the Oxford United game on the new pitch at Marsh Lane, which took SIS Pitches just 11 weeks to complete.  The work included removal of the natural turf pitch and the installation of the brand new SISTurf Soccer Pro 50 surface and new crowd barriers.
The new facility is set to be a huge boost for the club and the local community with over 40 local clubs, including neighbours Oxford United, set to benefit from playing at Court Place Farm.
Director of football Justin Merritt is now hoping City can use all the excitement surrounding the renovation to their advantage.
"It's a big transformation," he said, "and we are grateful to our Main Partner SIS Pitches for all of their support on the fantastic project.
"The players turned up for the first time a few weeks ago and were amazed at how it looked and there was a lot of excitement about it.  To have a record crowd on the first game played on the 3G surface is unbelievable.
He added: "It's not just the first team, it's everybody – the junior team, the disability team – we want to make a massive push to get the club on its rightful standing."
Matthew Streeter, Contracts Manager at SIS Pitches, commented; "We are very proud to become the Main Partner Sponsor at Oxford City and to have worked on this project.
"We have seen how a brand new facility like this can transform clubs in non league football and provide substantial benefits for the local community but also for the commercial benefit of the club and we have no doubt it will do the same for Oxford City and we look forward to playing a continued role in the utilisation of the project.
City are in good company with the synthetic turf, and join the likes of Manchester City F.C., the West Ham Foundation, Derby County, Norwich City, Redditch United and Bedworth United.
Enjoy This Post?
Sign up for regular updates direct to your inbox