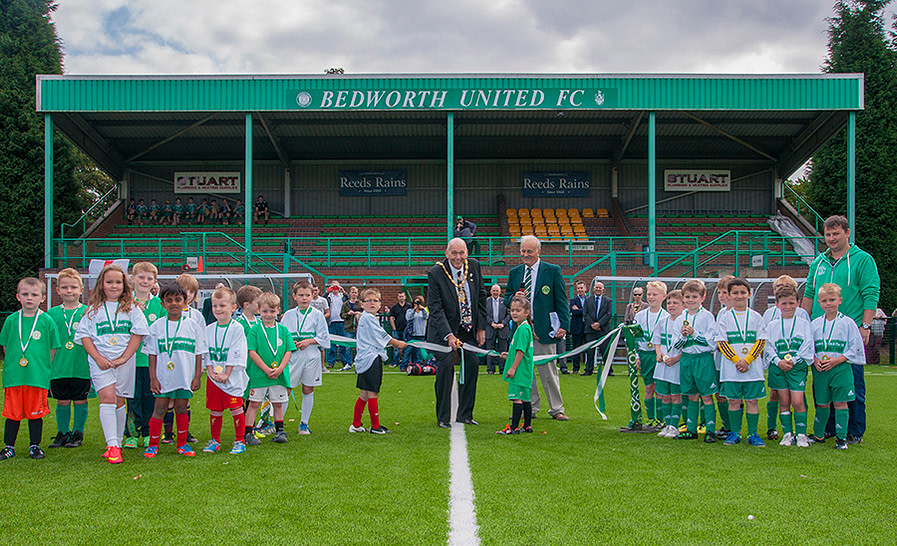 A glance at the balance sheet for this brave little club from the EvoStik Southern Premier League richly illustrates the value of a bold, imaginative management move in the face of tough financial times.
"Only 18 months ago we were earning zero from our old grass pitch. Now, in the first week of February 2016 alone we brought in £1,752 from renting our new synthetic pitch and it just keeps growing," says a thrilled stadium manager Barry Walker.
Club chairman Neill Rayson-Randle concurs; "This synthetic grass project is the best thing that has happened to date. The club's future, which includes the whole community, will be more secure from now on."
Now in their second season with the new money-spinning pitch, current income represents a further 21% year-on-year increase on the first bumper season, when the club estimated it directly earned them an additional £150,000 revenue.
It has even been forced to install a new car park to cope with rental demands for a pitch that now hosts almost 50 teams a WEEK!
Adds Barry; "As news of our pitch spreads and teams see how reliable it is, so our income steadily increases. This time last year we earned only £20 on Sundays from rental. A year later it is £200. It's the same on Saturdays – in 2015 it was £125 rental and now it's up to £225. It's very exciting."
Unexpected knock-on bonuses have seen bar-takings in the club's social club rocket as snacks, tea, coffee and merchandise are consumed by fresh hordes of parents turning up with their children. Cuts in maintenance expenses also save thousands annually.
Use by local U5s to U21s has soared leading to a thriving academy and the club offering Summer Schools. The ground is becoming a fixture for Junior Premier League cup semis and final games because organisers trust their fixtures cannot be cancelled due to weather.
"With climate change and all the rain we get now we are taking up the slack. As soon as the weather goes bad, the phones start ringing to book the pitch.
"The kids love it and so do the parents because unlike natural grass the kids can play in the rain and come off without being caked in mud," says Barry.
Schools and colleges weighing up a switch to artificial grass surfaces are left in no doubt after consulting with Bedworth stalwart Barry. His verdict – it's a game-changer with all-year use and rocketing revenues…but prepare for the rush!
"I hate to say it – but we are over the moon," he laughs. "It's been a total game changer and we get astronomical use from our pitch now. It's daytime and evening, seven days a week and the revenues have been amazing."
Bedworth AFC's 3G synthetic pitch was manufactured, designed, installed and maintained by SIS Pitches at the club's Oval ground, between Coventry and Nuneaton. SIS Pitches believe Bedworth AFC offers a model that fits any small club, school or university in any country.
Historically, coal mining played a large part in developing the region and the Oval ground itself is part of the Miners Welfare Park bought in 1923 by local miners for the townspeople and opened by Lord Burghley, of Chariots of Fire fame. Coventry United Ladies FC have made Bedworth their home ground for matches and training. And Coventry City FC's former player and Sky Blues in the Community leader David Buust now leads his summer and winter programmes for kids at the club. His over 50's Walk-In Football group are weekly regulars too.
The club asked SIS Pitches' expert installation team to rip up the old surface, install new sub-base and drainage and then laid the Pro Soccer 60 artificial grass on a beautifully level tarmac base. New fencing and floodlighting which allows local teams to play until 9pm completed the project. SIS Pitches cut in white lines for the full size pitch – with other coloured references for marking smaller pitches placed outside the playing area as guides.
Walker states. "Before the 3G pitch, the locals used parks or school pitches, not our old grass surface," he recalls.
"Now, Nuneaton and Bedworth Borough Council, who granted us a 31-year lease on the ground, hires out the pitch for several different activities and local schools come here too."
The SIS pitches surface also allows greater flexibility. "Four junior matches can be played on the surface at any one time," he explains. "We have eight small goals for mini soccer, two medium ones and the two full-size goals for our games. They all fit into the recesses built into the pitch perimeter."
Two-thirds of the total £650,000 project cost was funded by the English Football Association and Football Foundation under the Framework agreement, with Neill Rayson-Randle making up the balance as a personal legacy to the community.
Run as non-profiting-making body, Bedworth channels any excess revenue it generates to further develop the facilities, for the benefit of football, other sports and fitness activities for all to enjoy. These are gains that are equally applicable to schools and universities.
With the club firing on all cylinders, it aims to further extend the usage its all-weather facility offers the community.  "Our clubhouse is far busier than it was and we have staffed up to cater for the extra demand.
"The floodlights are in use far more now too, as so many more games are played during the winter, and we have doubled the car park capacity to cope with the influx of visiting teams."
Barry Walker adds; "Neil Rayson-Randle wanted to create a lasting legacy in the community and this SIS pitch will allow that. It's taken us from a non-league club with a small gate as our only income, to a club with multiple revenues.
"He and Framework have enabled us to make improvements, fund the replacement pitch and it's been a huge learning curve for us. We even got promoted to the Premier Division."
Such varied and extensive use demands a maintenance programme to match, a criterion of the FA's terms and conditions for funding the pitch project. Luckily SIS Pitches supplies all upkeep equipment and even a mini-tractor in its spec sheet and offers a full maintenance programme.
"We maintain a strict programme of upkeep," says stadium manager Barry Walker, who is also in charge of turf care at the Oval ground.
"I brush the surface lengthways and crossways two hours a week to remove any natural or foreign debris and to bring the rubber crumb up to the surface to support the tips of the artificial grass.
"Four times a year, the pitch undergoes a deep clean to de-compact the rubber crumb and so help protect the polyethylene pile."
As a further safeguard, players can only wear moulded studs or special all-weather footwear, he adds.
SIS Pitches also draws up usage codes for all its pitches, which are found in schools and universities across the Europe, as well as the world's leading sports clubs, such as Real Madrid, Barcelona, Chelsea and Manchester United and City.
Enjoy This Post?
Sign up for regular updates direct to your inbox