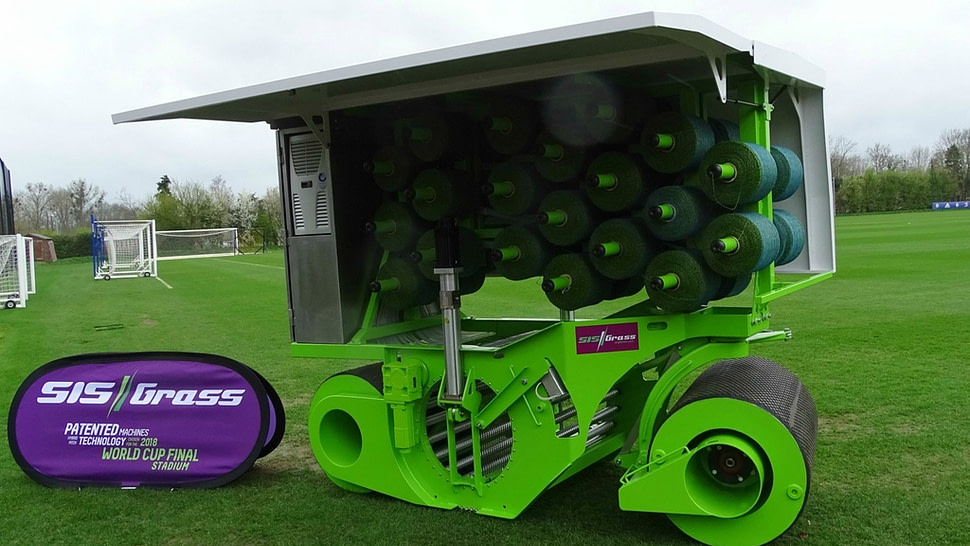 Combining speed, mobility and laser precision, SIS Pitches' game-changing hybrid pitch system, SISGrass Universal, is the latest addition to the company's award-winning technology.
After a soft-launch at the Cobham training ground of Premier League high flyers Chelsea F.C. late last month, the global pitch specialists are now rolling out the compact machine for wider use.
SISGrass Universal is an advanced reinforced turf system featuring patented fibre injection technology, utilising yarn that is tested to FIFA recommendations, which offers increased surface stability, more playing hours and faster recovery than 100% natural grass surfaces.
Just 1.20m wide, 2m in length and weighing a maximum of two tons, SISGrass Universal offers flexibility of stitching at every location quickly and accurately, with different depths, spacing or size using precise laser guidance, making it the perfect solution for groundskeepers who are challenged to maintain uniform grass quality in high-wear areas such as goalmouths, touchlines and warm up areas.
Phil Blackwell, UK Projects Director, commented: "On-going innovation, simplicity and a passion for performance is central to everything we do, and SISGrass Universal is the embodiment of that.
"We have taken the qualities of our award-winning flagship hybrid pitch system, SISGrass, to develop a fully electric, mobile and multifunctional machine open to football and a wider market, opening new possibilities for landscaping, golf, cricket and tennis. This is a unique and bespoke solution, that every club needs."
SISGrass Universal is 100% electric, mobile and easy to transport. The machine is operated by two members of trained crew, under experienced supervision to deliver the best quality of reinforced turf surface, and is able to strengthen any natural grass surface such as:
Goalmouths
Touchlines
Warm up areas
Training grids
Golf tees
Tennis courts
Walkways
Cricket wickets and run-ups

Enjoy This Post?
Sign up for regular updates direct to your inbox