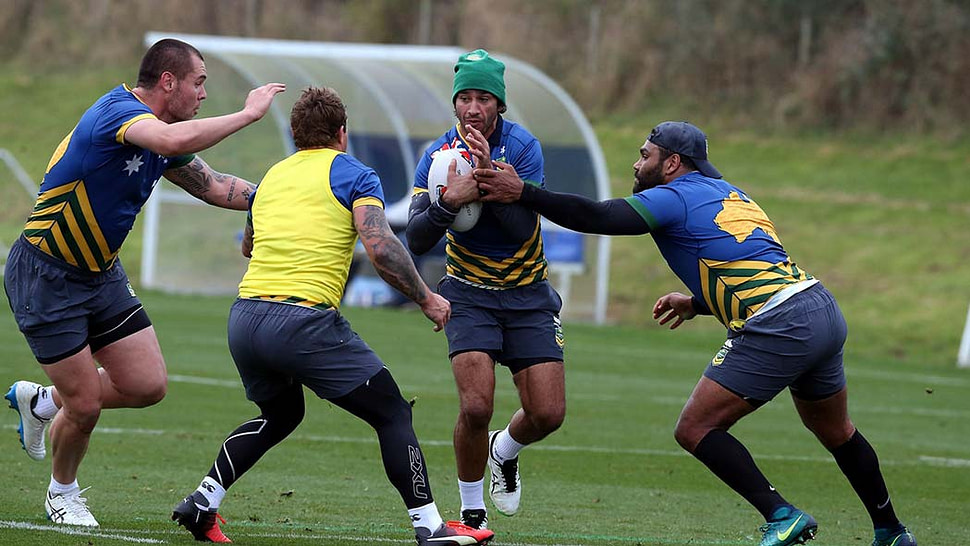 Based at St. George's Park the Kangaroos warmed up for the start of the series on a specially prepared SISGrass pitch at the home of the England National Football team.
SISGrass has been installed at St. George's Park since June 2015 and has been used by a number of high profile international rugby and football teams including Ireland and Argentina during the Rugby World Cup in 2015.
Alan Ferguson, Head Groundsman at St. George's Park, has been delighted with the performance of the SISGrass pitches at the headquarters, he commented; "We have been monitoring the development of SISGrass for over 18 months now.
"Getting the right hybrid pitch is an important part of our ground development programme and having installed two SISGrass pitches at St George's Park it has allowed us to test against competitors hybrid surfaces.
"Working with Dr.Ruth Mann and her team from the STRI we have been delighted with the findings.
"Both SISGrass pitches continue to be used extensively with the latest addition hosting over 30 hours this month alone including the Kangaroos Four nations preparation.
"The behaviour of the fibre in root zone is providing an ideal base for players across the England group and visiting teams to make the moves they need to make on a pitch with confidence.
"The hardness that can be associated with some hybrid surfaces has not been seen to date.  Management has been straightforward and the renovation of the first SISGrass pitch was one of the best I have seen.
"Add in the SIS HydroBox pop up irrigation system which we have installed on the pitches too and SIS Pitches have come up with a winning combination."
Phil Blackwell, UK Projects Director added; "We have been working closely with Alan and his team at St. George's Park to deliver a hybrid solution that matches the World Class facilities.
"The sward density and root depth in combination have delivered pitches that have been utilised more than any other on site and we are looking forward to working with St. George's Park more in the future."
Enjoy This Post?
Sign up for regular updates direct to your inbox