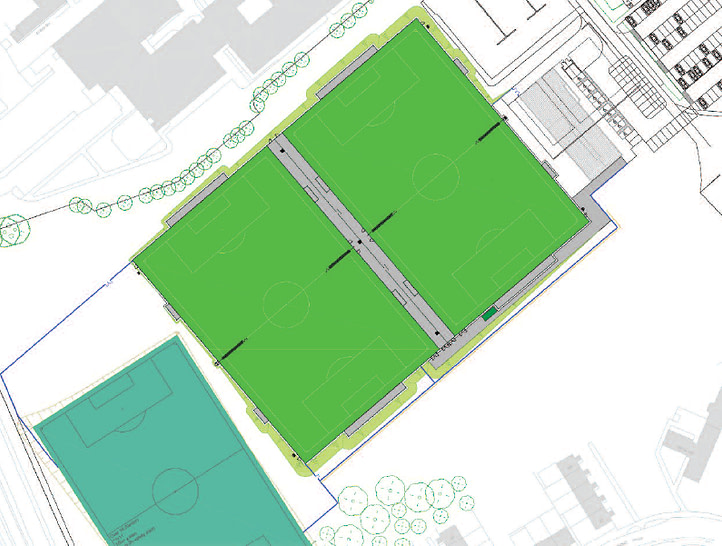 Although the construction timetable for each synthetic turf pitch will vary depending on a number of different factors – planning permission, site conditions, the size of the surface being installed, the resources of the contractor and the weather, there are some project basics.
Choosing the site
Selecting the correct location is important as this will depend on numerous environmental and physical conditions. Items to consider include an open field location, locality within an urban area, nature, greenbelt area, services and accessibility amongst many others. It is important to ensure the project is viable both financially and physically. Undertaking of a feasibility report by an expert will highlight any areas of concern and provide cost implications.
Planning
Satisfying the local authorities and planning department on planning consent is key and conditions will be made that must be adhered to. It may be prudent to employ an experienced consultant or expert to prepare the relevant design and documents and surveys required.
Design
The facility must be designed to meet the performance requirements for both industry standards and specific national and international governing bodies, such as FIFA or the FA for football, FIH or England Hockey for hockey, World Rugby or the RFU for rugby, and Sport England, being some of the most common.
Specifications and drawings are required in order to produce a suitable design. Site investigations required may include a topographical survey, a ground investigation report, an arboricultural survey, acoustic reports, services investigation and soakage testing, to name a few. The results of these investigations will form the basis for a specialist to provide a suitable design for the overall project.
Base Construction
The most important element in constructing a synthetic grass facility is the sub base preparation and the base requirements. The base not only serves as the platform for the synthetic turf surface, it also provides drainage and attenuation. Inadequate backfill materials, compaction and insufficient drainage is a recipe for failure to any installation or construction project.
Depending on the size of the facility and type of sport, it is important to consult with professionals in the civil and geotechnical engineering fields for their professional advice and support. Although expensive, geotechnical tests are recommended for all proposed large sport field facilities.
Enjoy This Post?
Sign up for regular updates direct to your inbox