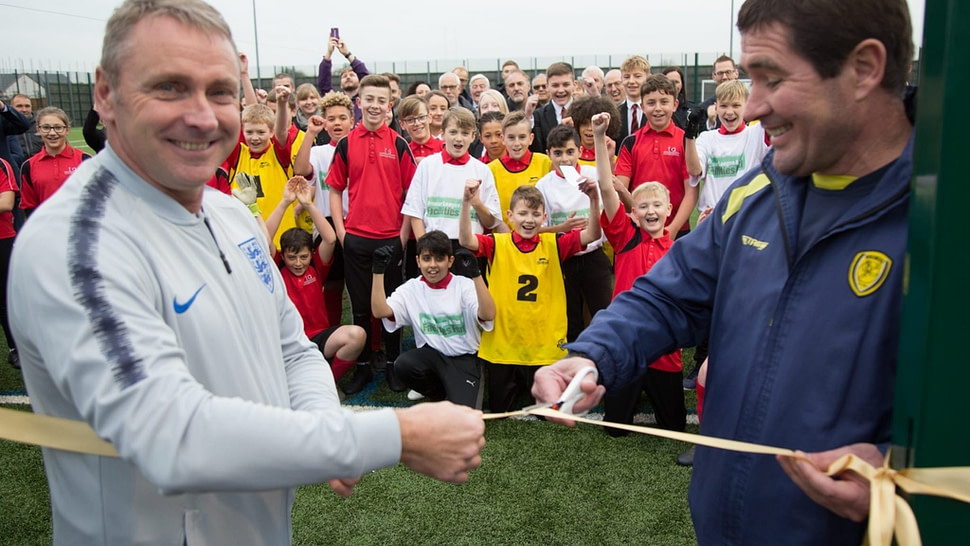 Burton Albion FC manager, Nigel Clough, and England Under-20 boss Paul Simpson teamed up to open a new third generation (3G) artificial grass pitch (AGP) at The Pingle Academy this week. SIS Pitches were pleased to be selected by The Pingle Academy to upgrade their existing 3G pitch with a new surface.
The new facility was made possible thanks to investment from the Premier League & The FA Facilities Fund, delivered by the Football Foundation. The grant has enabled The Pingle Academy to replace their existing all-weather pitch, which was originally installed in 2005 and had reached the end of its operational life due to heavy usage. The new pitch has been installed with an improved drainage system, refurbished floodlights and replacement boundary fencing to bring the facility up to current guidelines.
Sitting alongside the school's grass football and rugby pitches, the upgraded 3G AGP will not only benefit students at the school, but also many partner organisations, such as Woodville Rangers FC, Gresley in The Community, Derby County Community Trust, Burton Albion Community Trust and Burton Junior Football League. Thanks to the pitch becoming a central venue for the League, it is expected that 25 new teams will use the site.
The new surface is set to support the formation of several affiliated football teams over the next five years, growing from 48 to 73 teams using the facility. This will contribute to nearly 350 additional people playing football at the site, which represents a 41% growth.
SIS Pitches were happy to be selected to refurbish the 3G pitch at The Pingle Academy, this was a busy time for the school as they had three other contactors onsite completing various projects. Communication between the school and other contractors was excellent, we hope the school enjoy their new facility and wish them all the best for the future.

Josh McCarthy, Project Supervisor, SIS Pitches
You look at the facility and it's an excellent surface to play on. I'm sure the Pingle Academy and the wider community will benefit from this facility and hopefully there will be some future England players coming through having played football here.

Paul Simpson, World Cup winning England under-20 Manager
SIS Pitches is a part of a framework agreement to provide the design, manufacture, installation and maintenance of artificial grass pitches. The agreement is in support of the Rugby Football Union (RFU), Football Association (FA), Sport England, England Hockey and Football Foundation (FF) capital investment programmes.
Enjoy This Post?
Sign up for regular updates direct to your inbox