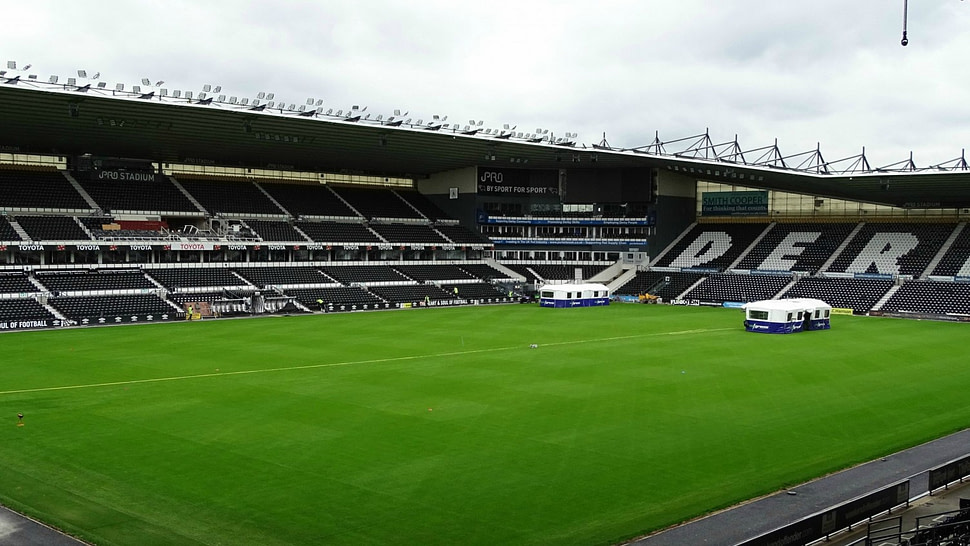 The iPro Stadium has completed a transformation in recent weeks and installed a brand new SISGrass pitch ahead of the forthcoming football season.
Derby County isn't alone in using the latest technology. SISGrass is currently being installed at the Luzhniki Stadium in Moscow, the host stadium for the 2018 World Football Cup Final, with work due to be completed in October 2016.
Phil Blackwell, SIS Pitches UK Project Director said: "We're delighted to be able to provide Derby County Football Club with a new hybrid pitch."
"We have been working flat out to ensure that the pitch is ready for the team ahead of the first match of the new season."
"The players will feel more stability on the grass and it will recover faster, meaning the pitch's quality will be consistent all year round."
The laser-guided installation took only five days to install, the fastest hybrid installation to date, working alongside Talbot Sports Turf.
The club had SISGrass installed on four of their training ground pitches and at the iPro Stadium after seeing the benefits at St. George's Park, the training facilities of the England national football team.
Sean Goodwin, Director of Talbot Sports Turf said: "We have been active with Derby County during the close season, working on five hybrid pitch installations, four of those at the training ground and the iPro Stadium itself. "
"SIS Pitches came in on time, with the latest modern technology available and were able to stitch the pitch to exact standard, this was carried out professionally and enabled us to deliver the pitch to the club on time."
Derby County and Scotland midfielder Craig Bryson was delighted with the new pitch after playing on the SISGrass daily at the club's Moor Farm Training Ground.
He said: "I have enjoyed training on the new SISGrass pitches at our training centre."
"The players have already noticed how well the playing surface plays. I am now looking forward to running out on the new SISGrass surface at the iPro Stadium for the forthcoming Sky Bet Championship season."
Enjoy This Post?
Sign up for regular updates direct to your inbox