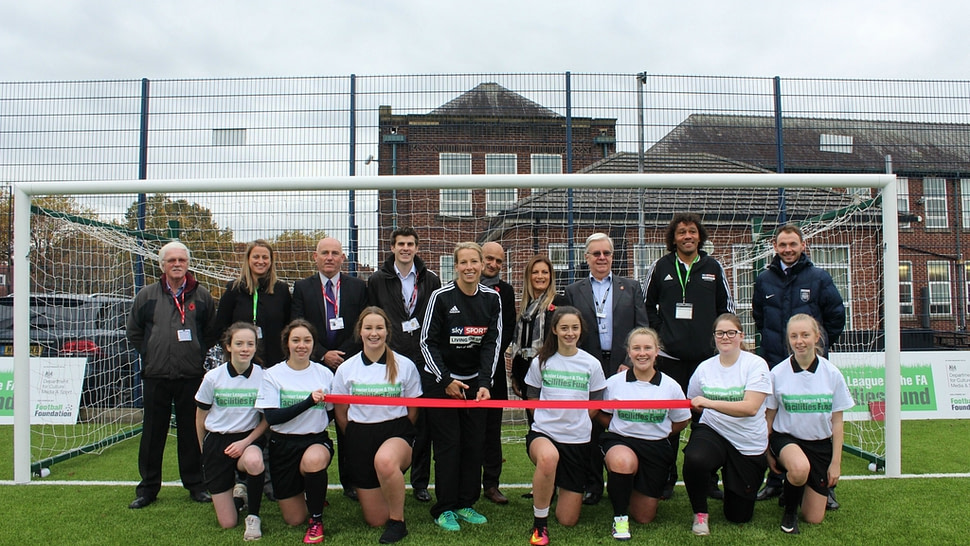 SIS Pitches used SISTurf Soccer Pro 60 to resurface and widen the pitch, which is set to boost grassroots football around the area.
The project was made possible thanks to a £99,600 grant from the Premier League and the FA Facilities Fund, which is delivered by the Football Foundation.
The project will boost local grassroots sport – in particular female participation – with partner club Urmston Meadowside AFC set to create 10 new teams for women. Flixton Girls School also plans to use a select group of female football ambassadors to inspire more students to take part.
The new and upgraded 3G pitch will be used all-year-round throughout the Urmston community, including local grassroots clubs, Aldemere FC and Kick about Kids.
The school also enjoy strong ties with Manchester City Women FC, with a number of their students having progressed into its Academy set-up.
Rachel said after cutting the ribbon on November 3: "It was great fun opening Flixton Girls School's new pitch, the students will benefit massively from such an important sports development.
"Facilities such as this one in Urmston are vital in boosting grassroots participation and it is thanks to the Premier League and the FA Facilities Fund's investment through the Football Foundation, that sites like this can be built.
"Having played at all levels of the professional game, both in England and abroad, I know how important it is for communities to have safe and accessible facilities that allow them to showcase their skills and enjoy their sport.
"I'm really pleased that everyone in Urmston will now have this opportunity too and am particularly excited to keep an eye on the next crop of young sport stars that will no doubt emerge from the school's ranks."
Julie Hazeldine, headteacher of Flixton Girls School, said: "We would like to say a huge thank you to Rachel for being here and opening the new facility.
"This facility will enable us to build on our strong reputation for delivering high quality opportunities for both our students and within the local community. To have this investment into grassroots sport is vital if we are to be successful promoting lifelong participation."
Enjoy This Post?
Sign up for regular updates direct to your inbox