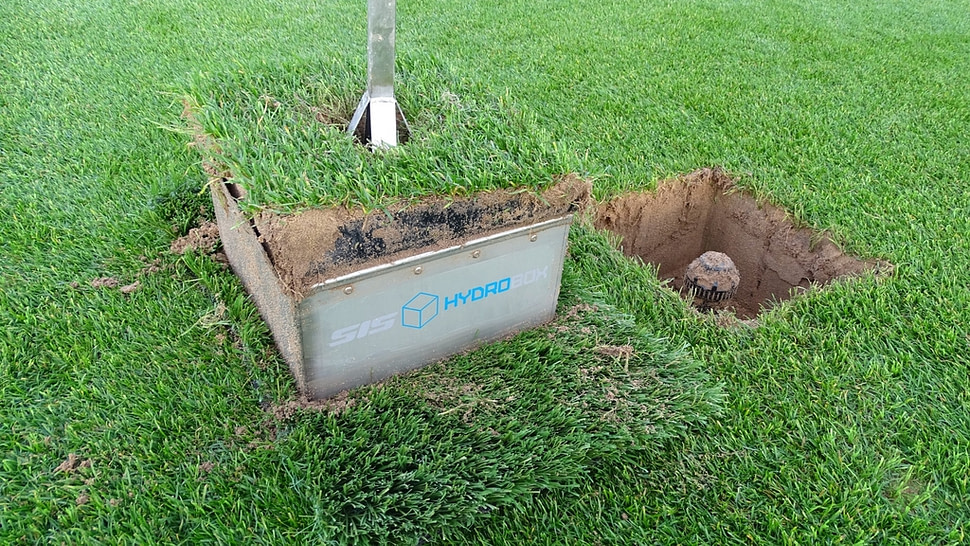 SIS Pitches launch their latest development in irrigation technology the SIS Hydrobox at Saltex on November 2nd.
SIS Hydrobox, designed for groundsmen by groundsmen, is the simple way to manage pop-up irrigation systems and has been designed for quick and easy installation in both natural turf and SISGrass reinforced systems.
Unlike with traditional pop-up sprinklers, the SIS Hydrobox allows you to easily access the sprinkler head and pipework, and can be installed and removed without disturbing the surrounding area, thusensuring consistent performance across the field.
Luke Edwards, Sports Systems Development manager at SIS Pitches, commented; "We are very excited about the opportunities for SIS Hydrobox and delighted to launch it at Saltex.
"Innovation is at the heart of everything we do at SIS Pitches and SIS Hydrobox is part of our ongoing programme for improvement and simplicity within the industry.
"SISGrass, our hybrid pitch system, has already won a number of awards and we are expecting the same for SIS Hydrobox.
"SIS Pitches is founded on the principles of being designed for groundsmen by groundsmen and with SIS Hydrobox we have managed to solve an age old problem for groundsmen and women across the world.
"It is set to revolutionise pop-up irrigation systems for all natural turf and hybrid surfaces."
SIS Pitches has many years of experience in delivering natural turf pitches and synthetic turf pitches to some of the greatest names in sport as well as to schools, colleges, universities, sports clubs and local authorities. SIS Pitches has offices in the UK, Ireland, Turkey, Holland, Middle East and Angola.
SIS Pitches are offering a 15% discount on SIS Hydrobox to anyone ordering at Saltex this week.
For more information go to www.sispitches.com
Enjoy This Post?
Sign up for regular updates direct to your inbox