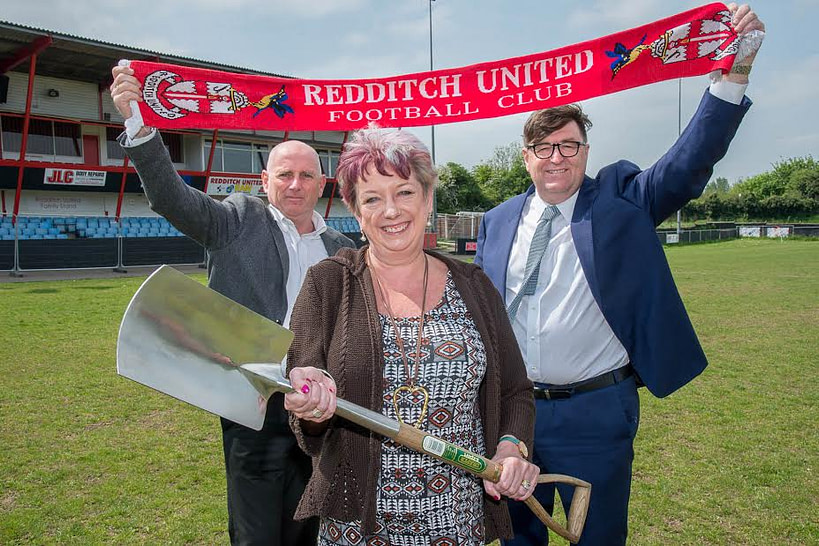 And town MP Karen Lumley was on hand to mark the occasion, digging out the first sod of earth.
A regular at the ground to cheer the Reds to their second place in the league last season, Mrs Lumley said: "I am a big fan of Redditch United and a great admirer of what chairman Chris Swan has achieved so far in his time at the club.
"I sincerely hope they can build on the great season they have just enjoyed and use this funding and the improved facilities that it will bring as a springboard to an even greater future.
"Redditch United are a community-minded club and host nearly 60  junior sides as well as the first team, and hopefully the club can use all of this to build a further fan base that can enjoy the superb new facilities.
"I for one am looking forward to coming to home games again during the next season."
The new 3G pitch is being installed by specialists SIS Pitches and managing director Bryn Lee was there to see work begin.
Having worked on football and rugby pitches around the world, the company has a reputation for being one of the leaders in their field.
Mr Lee explained: "SIS Pitches has many years experience in delivering pitches to some of the greatest names in sport as well as to schools, colleges, universities, sports clubs and local authorities.
"We are currently working with a number of clubs including Chelsea, Norwich City and Derby County so Redditch United will be in good company and benefitting from our very latest technology."
Work on the pitch is expected to be completed in time for the new season and Reds chairman Chris Swan said the new playing surface and revamped facilities would be a huge boost to the town.
"This is an exciting time, not just for the football club but also for the people of Redditch who will be able to access one of the best sports facilities in the region," he said.
"We can't wait until August when we can show off the new-look Valley Stadium."
Enjoy This Post?
Sign up for regular updates direct to your inbox