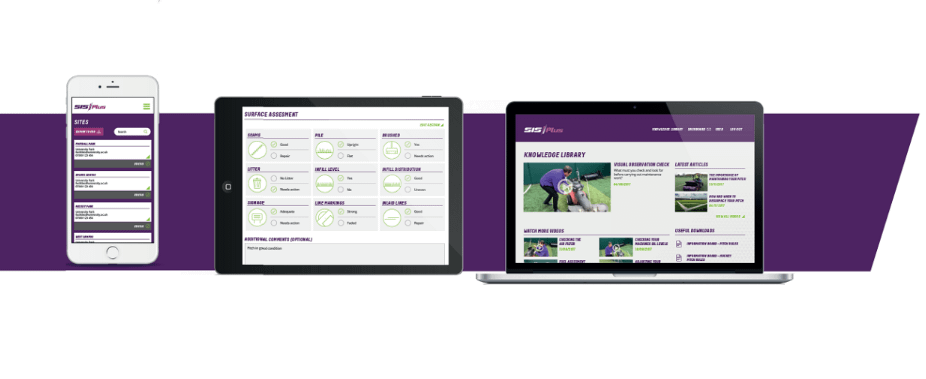 Introducing SISPlus-your new online maintenance portal from SIS Pitches.
SISPLUS – GET MORE FROM YOU PITCH
We are delighted to present SISPlus-an online portal dedicated to assisting you in keeping your pitch in top condition. Following excellent reviews and feedback from customers during a trial period, we are extremely excited to launch the portal, as another part of our service provided for our customers.
This portal is available on mobile and desktop and enables you to easily add weekly pitch reports in order to ensure that you can manage your pitch care routine efficiently and effectively.
How does it work?
SISPlus gives you flexibility to update your pitch reports from wherever you are located-enabling you to easily keep on top of your maintenance duties.
With SISPlus, you are able to:
Manage your account
Access your sites and pitches, add your ground staff access and keep all documents in one place!
Keep track of your pitches condition
Update your weekly pitch reports or keep track of your ground staffs work. it is imperative that you submit your reports on a weekly basis. Should you fail to do so, we will be informed!
Browse the knowledge library
Watch informative videos, download documents and discover best practice on how to look after your pitch. 
wHY IS MAINTENANCE IMPORTANT?
A strict and thorough maintenance regime is imperative in order to ensure the quality and performance of a sports surface. Without due care and attention, player experience will be impacted, wear and tear will be increased and performer safety could be compromised!
Access to our portal is limited strictly for SIS Pitches consumers. Please contact maintenance@ should you require any assistance with SISPlus.
We hope that you enjoy using the portal and remember that we are always here to help should you require any assistance with SISPlus or with general pitch maintenance queries!
Enjoy This Post?
Sign up for regular updates direct to your inbox