The new $330 million Rostov Arena – which will host five World Football Cup encounters – is officially ready for action.
SIS Pitches was commissioned to design, construct and install the surface at Rostov, using sophisticated reinforced natural turf system, SISGrass. Beneath the Rostov stadium is SISAir technology – our aeration system, which manages soil moisture and promotes healthier turf by providing optimum conditions for root growth.
STANDARD AND QUALITY
Following complex inspections, the pitch was certified as compliant with FIFA's quality standards by independent agency the Sports Turf Research Institute, and SIS Pitches formally transferred the pitch over to stadium management, who will handle all of its maintenance.
SIS Pitches' Eastern European Managing Director Ilyas Kobal, said: "With less than six weeks to go, a vital part of World Football Cup preparations is ensuring that, like the players, the pitches are truly world-class."
"Our crew has been working hard to get the ground into the very best condition. Rostov now has the most technologically-advanced playing surface in the world. Our SISGrass system has delivered a pitch that is durable and will perform well. It's over to the stadium team now to maintain that standard and quality until the final whistle."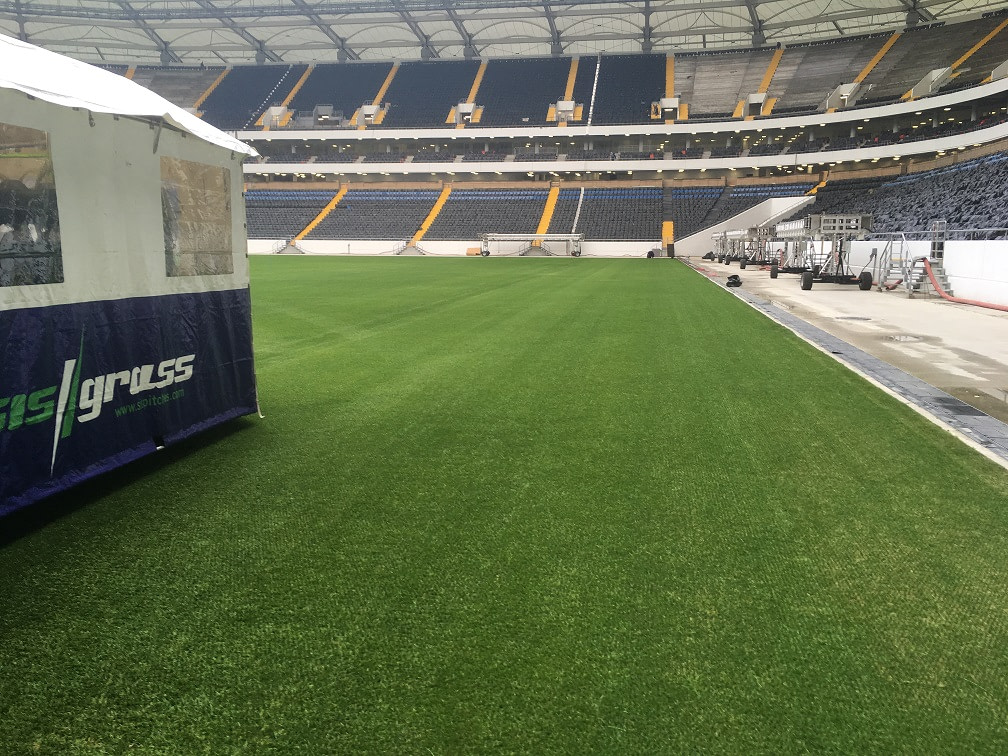 "As football fans around the world count down to the start of the tournament, the pitch handover is another step closer to the action, and we can't wait for the matches to begin."
The Rostov pitch installation was completed in eight days, using a staggering 48,000 kilometres of yarn – which is the equivalent of the distance around the world.
STARS ON SISGRASS
Smirnov Denis Anatolievich, Director of Rostov Stadium, added: "SIS Pitches are highly qualified professionals who provide high-quality services. They successfully carried out the design and construction of our pitch at Rostov Stadium, using the very latest technology, installing an aeration and drainage system and stitching synthetic fibres to strengthen our turf. Earlier this month we hosted our first football match, and the independent and official expert of FIFA conducted testing, which proved the high quality of the pitch."
The 45,000-seater Rostov stadium will host five World Football Cup Group matches, with Brazil facing Switzerland (17 June), Uruguay playing Saudi Arabia (20 June), South Korea taking on Mexico (23 June) and Iceland up against Croatia (26 June). The winner of Group G and runner up for Group H will also go head-to-head at Rostov.
Located in Rostov-on-Don, the stadium is one of 12 venues that will host World Football Cup fixtures. Six of these have commissioned SIS Pitches expertise and feature SISGrass surfaces, including the Luzhniki stadium, where the highly-anticipated World Football Cup Final will be played before a crowd of 80,000 and a worldwide TV audience of one billion. It will be the first time a World Football Cup Final has ever been played on anything but all-natural grass.
Enjoy This Post?
Sign up for regular updates direct to your inbox