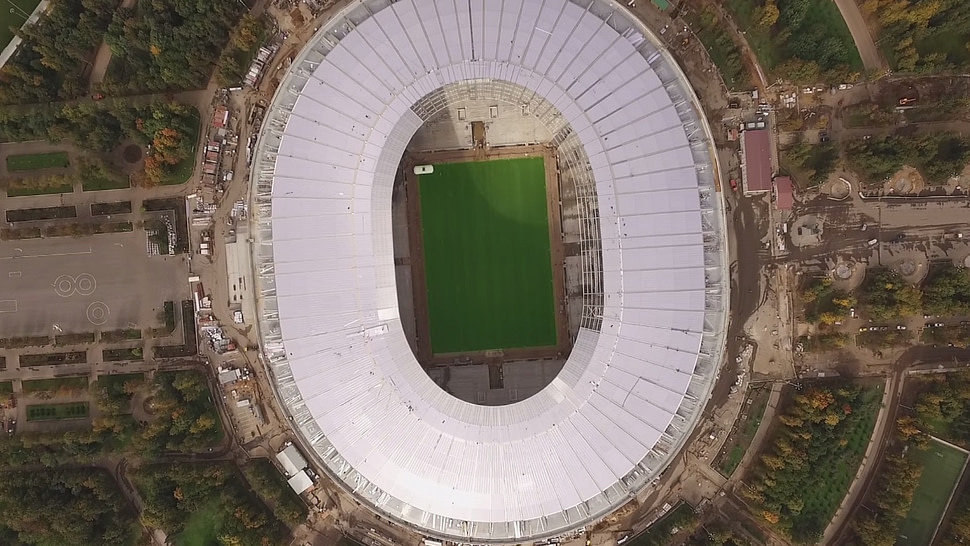 Luzhniki Stadium's pitch in Moscow has been laid by British company SIS Pitches using the revolutionary SISGrass and was completed for handover earlier this month.
The brand new SISGrass hybrid surface will make the Luzhniki Stadium the most technologically advanced pitch in World Football Cup final history.
The laser-guided installation took just eight days to complete and boasts 95% natural turf alongside the 5% specially designed PE yarn.
The 2018 World Football Cup will be the first to have a SISGrass natural turf reinforced pitch and SISAir technology.
SISGrass is an advanced reinforced turf system featuring patented fibre injections, which offers increased pitch stability and delivers considerably more playing hours than natural grass surfaces.
SIS Pitches CEO and owner George Mullan said: "It's the first time a World Football Cup final has been played on anything but all-natural grass and we are honoured to have been chosen to install it. We have come so far to get this system to the pinnacle of world sport.
"The quality of SISGrass will ensure that the pitches are resilient in all conditions, and I am sure the 2018 World Football Cup Final is one that we all remember."
SISAir is a revolutionary system that proactively manages soil moisture and removes excess water from the soil via a network of under pitch pipes that can blow hot or cold air depending on the climate requirements.
The SISAir system helps to optimise the root zone's growing conditions and assists the promotion of healthier turf.
On SISAir, SIS Eastern European Managing Director Ilyas Kobal explained, "SISAir, through our specialised piping infrastructure, ensures the root zone is in excellent condition, in particular in challenging climates such as in Russia.
"We are confident that the pitches constructed by SIS Pitches for the World Football Cup in 2018 will exceed the expectations of both the players and officials and SISGrass could be vitally important in the 2022 World Football Cup in Qatar." said Kobal.
SIS Pitches has many years experience in delivering natural turf pitches and synthetic turf pitches to some of the greatest names in sport as well as to schools, colleges, universities, sports clubs and local authorities. SIS Pitches has offices in the UK, Ireland, Russia, Turkey, Holland, Middle East and Angola.
As well as the work at the Luzhniki Stadium, SIS Pitches has also been hard at work elsewhere in Russia in recent times. The global pitch-specialists have also completed work at the homes of FC Krasnodar and Spartak Moscow.
Enjoy This Post?
Sign up for regular updates direct to your inbox