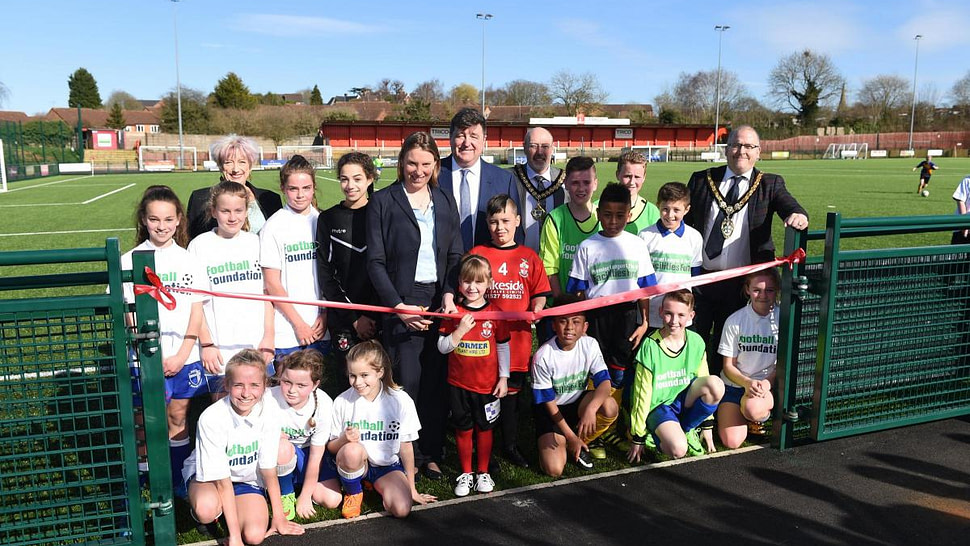 The SISTurf synthetic pitch and revamped changing rooms are projected to create 17 new local teams and will also enable Redditch United to bring all of their 38 teams 'home' to one venue.
The project was made partly possible thanks to a £561,650 grant from the Premier League & The FA Facilities Fund, which is delivered by the Football Foundation.
The Premier League, through the Football Stadia Improvement Fund (FSIF) – the Football Foundation's sister organisation – also invested £88,166 into the project.
The FSIF has awarded Redditch United FC grants totalling £265,936 over the past 15 years to help fund a number of infrastructure developments at the Trico Stadium.
Since it was launched in 2000, the Football Foundation has awarded around 15,000 grants worth nearly £580m towards improving grassroots sport, which it has used to attract additional partnership funding of £800m – over £1.4bn of investment into the grassroots game.
SIS Pitches Managing Director Bryn Lee, said, "We're proud to have a great affiliation with Redditch United, their supporters and the local area. To see the Trico Stadium now and the new pitch, it shows the club's ambition to compete with the best – this is now one of the top football facilities in the region."
He added, "This SISTurf pitch isn't just for the club, it's also for the local community and the region. With it now able to sustain extra playing hours, it will be able to support more and more local teams and projects, which can only benefit the area as a whole."
Tracey Crouch MP, Minister for Sport, said: "Good facilities, like this one in Redditch, help encourage people to play sport and gain from the physical, social and mental benefits participation brings.
This facility shows what can be achieved when the Government, Premier League and The FA work together in partnership."
Karen Lumley, MP for Redditch, said: "This all-weather pitch will prove a tremendous asset to the local community, and it's great to see youngsters already making the most of the new facilities.
It's vital people right across the country are given the opportunity to play sport and stay healthy in safe and accessible environments, and this new football hub will provide exactly that."
SIS Pitches have built such a good relationship with the club, they've agreed to sponsor Redditch for the next three seasons and are committed to ensuring that the local community have the best playing surfaces to enjoy all sports.
The new pitch will also benefit the whole community due to its durability and increase in overall playing hours. This will give more opportunities to local schools, clubs and other events in the local area.
Enjoy This Post?
Sign up for regular updates direct to your inbox